CONGRATULATIONS TO OUR COZY CAT WINNER, TITAN!
Last week, in recognition of National Cat Day, we posted a contest in which one lucky cat could win a CozyPure pet bed.  We asked that the cat's owner tell us why their cat needed a CozyPure bed of their own and Clare Abad did an excellent job convincing us that Titan should win:
I am an owner of a CozyPure bed and I know how safe, soft and comfortable to sleep on. I have a hairless cat named Titan. He is 3 years old. I always find him sleeping soundly in my CozyPure bed because it is so soft, comfy and warm. Since Titan is a hairless cat, he is more sensitive to chemicals than furry cats and we always have to keep him warm and cozy, especially during the cold weather. He is such a lovely and adorable little cat and I want to keep him happy, healthy, and super comfy so he will keep me company for a long long time! Your beds are very soft , therapeutic, and most importantly, there are no harmful chemicals that are emitted and they are made of eco-smart materials which make your beds healthy for Titan and healthy for the planet. These are the reasons why Titan needs a CozyPure bed to sleep on day & night.
Thank you for making safe and healthier beds!
We also stated that extra consideration would be given to contestants in their Halloween costume and Titan was a cute little devil!
Thanks to all the participants and watch for future CozyPure contests.  Our coloring contest is still open!
---
Original Post – 10/26/16:
National Cat Day is October 29!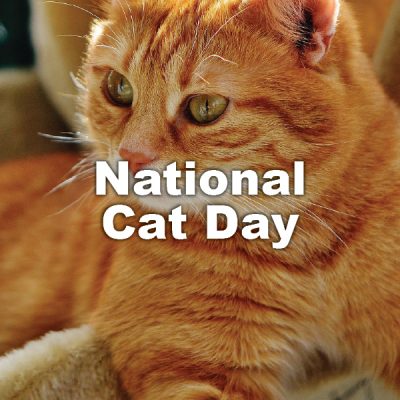 ABOUT OUR PET BED:  Furballs love our Orthopedic Pet Bed which we seam-tuft for that extra element of designer elegance which also creates super soft pockets of comfort.  Inside is filled with 100% resilient latex foam noodles (no polyester to compress or break-down). Filling our pet beds with 100% latex offers superior support while also delivering cushioned softness for ideal comfort.  For the outside fabric we use an upholstery-grade 100% organic cotton canvas fabric for long term durability.  Available in two sizes: Small/Med –  25″ x 20″ and Large – 45″ x 30″ (the contest is for the small bed). Vacuum and spot clean any stains. Do not machine wash. Never place the pet bed in a dryer.  We highly recommend ordering the removable zipper cover made from organic cotton twill, which is easy care machine wash and dry to help protect the pet bed from dirt, tears, etc. Available in five color choices!  For more information or to order, click HERE.
Made in the CozyPure® organic bedding factory in Norfolk, VA, USA.
WIN A FREE SMALL BED
SEND US A PICTURE OF YOUR FAVORITE CAT(S) AND TELL US WHY HE/SHE NEEDS A COZYPURE BED!  Extra points will be given to cats that are wearing their Halloween costume!
Email entries to cozypure757@gmail.com.  Entries must be received by 11:59 PM on October 30 and a winner will be chosen on October 31.