Looking for the perfect holiday present? Give the gift of good sleep.
Consider one (or all) of these five gifts for that special someone in your life. Whether you're gifting a pillow, a luxurious sheet set or a baby blanket, know that each and every item listed below is 100% organic, free of harmful chemicals, and made proudly in the USA. Order early to ensure delivery by Christmas.
#1 For everyone on your gift list (Customer favorite)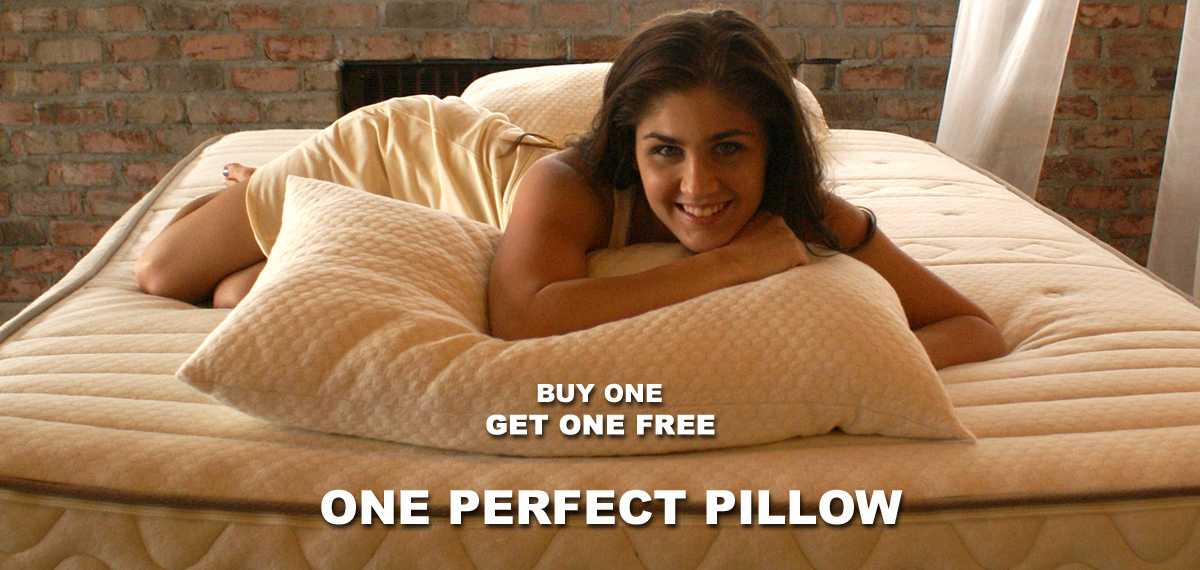 The LaNoodle Pillow
BUY ONE GET ONE FREE for a limited time – With every LaNoodle Sleep Pillow you purchase, we'll send you a second one FREE*
Our best selling LaNoodle Pillow is a customer favorite – especially for gift-giving! The CozyPure LaNoodle Pillow is one perfect pillow made from pure natural latex noodles which provide soft and resilient support, with the flexibility to uniquely cradle your head and neck for individual comfort. The perfect alternative to feather down pillows…. without the dust mites.
ABSOLUTELY NO FOAMS OR POLYESTER FILL – only Pure Natural Latex! We use Eco-Organic materials. Hand-crafted right here in our Norfolk, VA workshop! Naturally dust-mite resistant and perfect support, comfort and resiliency. DESIGNED TO LAST FOR YEARS.
#2 For the expectant parents
The Lullaby Lamb Organic Cotton Baby Bedding Collection
Baby will feel safe and secure with our cuddly security blanket. Snuggly and soft luxury matelasse knit offers three-layers of 100% certified organic cotton. Features Lullaby Lamb pattern in a muted taupe color which reverses to solid taupe. Finished with organic cotton twill hem.
Fitted crib sheet is also made from the Lullaby Lamb matelasse fabric, which washes up great and is thick enough to help absorb moisture and assist in protecting the mattress (but it's not 100% waterproof so we recommend our wool moisture pad underneath the sheet).
Matching pillow case is made to fit our Childs (Travel) Size Pillows and designed with a back envelope closure.
The blanket, sheet and pillow case are easy care machine wash and dry.
Made in the USA.
Visit the Lullaby Lamb Baby Collection

#3 For the hostess
Pebble Pique Organic Cotton Matelasse Blanket
Fall in love with the classic and simple elegance of our exclusive Pebble Pique Matelasse Blankets made from 100% pure organic cotton, no synthetic blends.
Timeless cream quilted pique-pattern of small bubbly pebbles which reverses to solid linen color so you have two ways to layer the blanket. Our signature matelasse fabrics feature three sumptuous layers of organic cotton which provide an extra soft plushness with a slight puckered texture after washing.
Fully finished hem features organic cotton trim edge in natural cream color.
Our organic cotton matelasse blankets blend organic comfort with classic design plus easy care machine wash and dry. Made in Norfolk, VA-USA.
Available with matching pillow covers (open-end cases).
Ready to order the Pebble Pique Blanket? Click here.
#4 For that special someone
Organic Cotton 280TC Sateen Sheets – Made in the USA

100% Certified Organic Cotton — absolutely NO synthetic blends. Since we don't finish our sheets with formaldehyde or chemical treatments you'll notice they have a slight wrinkle, which we think is lovely and reminiscent of true natural linens. Our organic cotton fabrics BREATHE, just like you do, and provide a fresh, pure, CLEAN environment for the most comfortable sleep. Classic ivory color linens are both elegant and TIMELESS allowing you to add splashes of color with blankets, shams or toss pillows.
Organic Cotton 280 thread count sateen sheets proudly made in America from USA milled fabric certified to GOTS (Global Organic Textile Standard). This classic plain weave has a nice crisp and smooth feel; perfect for year-round.
Get your Made in the USA Organic Cotton Linens here!
#5 For you
Luxury Hotel Collection Latex Mattress Bundled Package

You will love our Solid Natural Latex Rubber Mattress plus Organic Stretch Knit Protector, Removable Latex Topper, Wool Comforter, Latex Pillows and a complete set of Organic Cotton Sateen Linens, including Duvet Cover
EVERYTHING YOU NEED: TURN-KEY NATURAL BEDROOM SLEEP SYSTEM WITH ALL THE GOODIES INCLUDED
Experience outrageous organic comfort every night with our Luxury Hotel Collection. Guaranteed to enjoy the best rest with our handcrafted bedding and the best mattress available, made from the finest natural ingredients: natural rubber, wool and organic cotton.
Read more about the Luxury Hotel Package and how you can save over $2000….
Not sure what your special someone might like? How about a CozyPure gift certificate? CozyPure is a woman-owned factory-direct company based in Norfolk, Virginia. CozyPure products are made in our building in Norfolk, Virginia and shipped straight to your door. No middleman, no chemicals, no hassle.
Sign up for our newsletter and get the latest information about our products at CozyPure.com.