Summer time is soon upon us, so we thought we'd post this again (originally published June 2014). Enjoy the warmer weather, but sleep well and rest if you catch a summer cold!
======================================================
We have all suffered through it: The Common Cold, and yet, why is it that still there is no cure for the aching and stiffness of one's body? The best that we can do is stay in bed all day and drink juice and sleep and watch our favorite T.V. shows or read our favorite books and magazines. However, that is not good enough for a lot of us, especially after the second day or so of lying in bed. Many of us have to get back to work, get back to school, return to our everyday duties so that we can resume our lives and hopefully retire on a beach some day – and from there we'll figure out what to do with the rest of our lives once we get bored doing even that. So, what do we do? We resume our lives and our cold does not get any better. In the Winter, if treated the right way, a cold might be gone within a couple of days to a week, with lingering symptoms for the next month or so.
A summer cold can be very different. Many of us will want to go outside in the nice summer heat, which is great, you know, soaking up that Vitamin D while sipping on a cup of orange juice and falling asleep in the sun perhaps; however, research shows that transitioning from indoors to outdoors might want to be kept to a minimum because the conversion from hot air to cold air can dry the protective mucus lining in the nose, so be careful about air conditioners. Also, as we all know, the key to fighting any cold is rest, just sitting back and letting your body work out the wonders. But, as we all know, Summer tends to be a very busy season. There are so many social things going on, so many beach days that you don't want to miss, and of course staying in beach body condition is a full time job to begin with. So what are we supposed to do when we get sick> Miss out on all of the fun summer activities that we won't see for a whole year after Summer has ended? Think of all the Barbeques that you will miss if you take a whole week off for your health!
Well, you can always hide your symptoms by chasing a musinex with cough syrup, but in the end we have to face the facts that the symptoms can not be buried for long and eventually we have to face the ugly truth that modern medicine can't even defeat the common cold. Still, there is one thing that one can do, every night for a week. That's right, you guessed it: assure that you are getting the proper rest. Rest is the key to recovery and although we can't take a whole week off if we want to save up our vacation days, we also can make sure that so long as we are getting a full night's sleep every night until we are better, then the rest of the Summer will be much, much more enjoyable, and memorable, when we aren't pumped with Day-Quill.
CozyPure can assure your proper Summer rest with our variety of inviting Organic Latex Mattress' and pillows and blankets, etc.. Our products are naturally dust-mite resistant so that your not inhaling debris as you sleep so long as you know how to wash your sheets. Our organic cotton and wool products are not drizzled with petroleum and our sheets not doused in formaldehyde, so there are no unwanted, uninvited, uncalled for chemicals to interfere with your body chemistry.
Of course, you can sweat out a summer cold in the heat of the sun, in a sauna or a steam room. Light exercise is not prohibited for those trying to stay in shape for the Fourth of July; however, workouts that are too intense can deplete the body of energy needed to fight the disease. Remember, though, sleep – sleep – sleep! Get well and enjoy your Summer!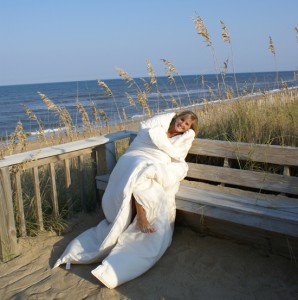 Save