http://https://youtu.be/d-gB14lLYBc
---
In observance of the holiday, CozyPure kicked off our annual Made in the USA sale during the 4th of July weekend. For the last couple of weeks we've had orders pouring in for natural latex mattresses, Made in America linens and handcrafted pillows and blankets. Customers love this sale because they can save money on their favorite CozyPure products, we love this sale because it is the perfect time for us to remind consumers that their order is made fresh daily in our Norfolk, VA workshop. We've always been committed to using sustainable and organic materials, but we're also dedicated to USA manufacturing. In fact, the entire CozyPure® brand of products proudly carries the Made in the USA label.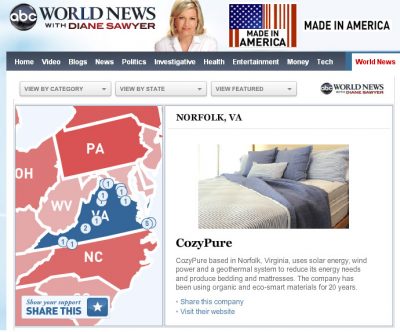 "When you seek out American-made goods, you foster American independence." – Top Ten Reasons to Buy American, www.madeinusaforever.com
CozyPure® is one of the American manufacturing companies featured on the ABC World News Tonight "Made in America" list.
When writing reviews for CozyPure on Shopper Approved  our customers often mention the fact that our products are Made in America. It is important to them and important to us. Here's a few examples:
"I'm a repeat customer to Cozypure. Haven't had the opportunity to experience their mattresses just yet, but am completely in love with the Lanoodle pillows! I'm placing a third order to give to some family members. I also love that all products are made in the USA." -Eileen
"I am so glad I found this company. I love to find organic products made in the USA. we are saving up to buy a king size mattress now!" -Valerie
"Very easy to navigate through your site and I'm glad to know that your products are made here in the US!" -Moises
CozyPure's Sales & Service Manager, Susan Brown, knows her customers love a good sale but that's not the reason they shop at CozyPure.  "Today's consumer is more savvy than ever.  They want to know the source of the products that they are bringing into their homes and exposing their families to.  They want sustainable, healthy and chemical free materials next to their children.  At CozyPure, we deliver that.  The fact that our products are made right here in the USA is the cherry on top.  Finding American made products has become a most arduous task.  We at least have them covered in the bedroom, which is, essentially the most important space in the home since we spend 1/3 of our lives there."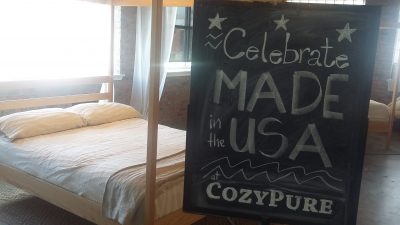 CozyPure's Made in the USA sale is  continuing through the end of July.  Shop online at www.CozyPure.com, via phone at 1-800-229-7571 or in our Norfolk, VA showroom.
Now that we've established that CozyPure's latex mattresses and organic bedding is all made right here in the good ol' U. S. of A., our next article will delve deeper in to the "making" of latex mattresses. You deserve to know what's inside and we've never been afraid to tell you!