How many pillows do you need for a good night's sleep? Are you fine with just one pillow or do you need more to get that right amount of softness and comfort? We have heard answers that range from one pillow to around six! The use (or overuse) of pillows can be a contributing factor to missing out on sleep.
If prefer to sleep with more than one pillow, make sure you don't turn your neck at an uncomfortable angle while you sleep. Poor sleep posture can cause you to wake up with neck pain or other soreness. Incorrect use of pillows can also contribute to sleep apnea, a dangerous disorder that cuts off your breathing while you sleep.
The age of your pillows can affect your sleep as well. A dusty, old pillow that has gone flat from years of use does not provide proper head and neck support can ruin your sleep, no matter how many you pile up to sleep on.
Here are the features to look for in your next pillow:
A quality cover – A pillow cover should be durable and clean. Materials such as organic cotton are softer and allow for proper air flow. This keeps your head at a comfortable temperature and can help reduce insomnia.
Supportive filler material – The inside of an old pillow can be a home for mold, mildew and dust mites. Pure latex is resilient inner material for pillows and does not attract mites or mold. The inside of your pillow should be supportive and shape itself to accommodate your head for a customized fit.
Proper height – A pillow that is too high or low will tilt your head too far in one direction. If you are sensitive or particular to the fill, then look for the option to unzip the pillow and adjust the height by adding or removing the filling materials
Suited to your sleeping position – If you prefer sleeping on your side rather than your back, your pillow should be designed with your favorite sleeping position in mind. You may even need more than one pillow, especially if you're a multi-tasker like our President and CEO Cheryl Hahn:
I have a larger, denser wool pillow propped up against my headboard that I angle very slightly. Then I have my regular-fill standard size LaNoodle pillow in front of that, which I use as my "primary sleep pillow". Since I read every night before turning out the light, the larger pillow is nice for that extra support. When I'm ready to sleep, I mostly use the LaNoodle but the larger pillow angled just a little bit gives me that "wedge" type of support I like since I'm mostly a side sleeper and I can scrunch my LaNoodle Pillow to work perfectly whether I'm reading, sleeping on my side or turn on my back. Pillows are so personal and everyone has unique comfort, you just have to find what works best for you.
You may need one pillow or a combination of pillows to get your perfect sleep. Either way, you should definitely consider a pillow made from premium materials that last. Don't sacrifice price for quality.
RECOMMENDED PRODUCTS
Our CozyPure®  organic pillows are ideally suited your custom sleeping needs:
Natural Latex LaNoodle Pillow Collection – The "original" CozyPure®  LaNoodle Pillow is made from pure latex noodles, providing soft and resilient support with the flexibility to uniquely cradle your head and neck for individual comfort. Available in three different fills (light, Regular, and Extra).
Pure Performance Pillow with Pure Latex and Organic Sateen – Similar to our best selling original LaNoodle Pillow our Pure Performance Pillow is also made from pure latex noodles (no blended foams or synthetic batting) but it's overstuffed with a zipper so YOU can take out the fill and adjust to your individual preferred comfort.
Adjustable Latex Contour Pillow – Folks that have neck pains may find contoured pillows a great prescription to feeling better. The gentle hand-tied contour cradles the head and neck perfectly to help alleviate pain and discomfort. Filled with free-flowing latex LaNoodles which dynamically move around your individual curves for perfect support and comfort. Features a zippered edge for adjusting the fill to your specific levels of delight.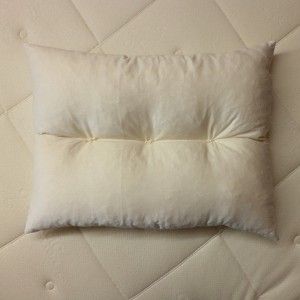 Lumbar-Neck Organic Pillow with Pillow Case – Neck Roll pillows can help provide contouring support to the natural cervical spine curve while lying on the back and Lumbar pillows help give support to the lower back. Our Lumbar-Neck Pillow can be used for either one.
How many pillows do you use to get to a good night's sleep?
Do you use more than one? Leave a comment and let us know!