Our boxes were uniquely designed by CozyPure CEO and Founder, Cheryl Hahn, to help make delivery of our mattresses easier for transportation. Since latex mattresses are very heavy, yet also somewhat floppy, there were issues in handling them throughout the entire logistic system.
"It was counter-intuitive really" says Cheryl when designing the new concept with the box company "to use the weight distribution in a different way that would work more effectively and allow the density work FOR rather than AGAINST the finished packaging. There are machines to roll-pack but I worried about compromising the integrity of our materials and knew there had to be another solution. When we make local deliveries we simply fold the mattresses and that's when I realized we could do the same thing for freight deliveries, we just needed a box that would work. Packing our mattresses in our specially designed cartons eliminates the "floppy" factor and even allows customers to transport with a hand truck."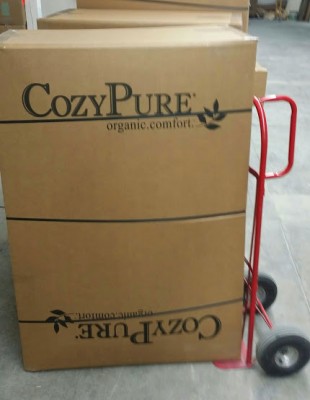 The initial measurements and carton-runs in 2011 were tweaked and all sizes upgraded to double-wall strength in 2012 with added straps to protect against combustion (king size 12″ latex mattresses traveling across the country were most vulnerable). It's been over two years using this method for shipping our latex mattresses and we've seen a significant reduction in damages, in fact with the exception of a very few freight-carrier related issues, damages have been eliminated.
"Our customers are pleased when they receive our mattresses. It's easier for them to handle an assembled mattress packed this way versus compromising materials being squished into a tight roll-pack… or sending them separate components so they have to assemble the mattress themselves.", says Hahn. "We give them a finished product ready to unpack and enjoy right out of the box."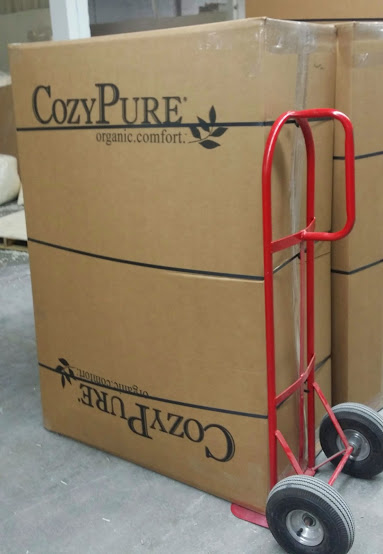 Along with high-quality products, customer satisfaction is one of our top priorities, so developing this innovative carton design to ship our mattresses is something that embraces a small idea with a big impact.
Cheryl Tan from WAVY TV NEWS came out to visit us in 2012 (aired for Earth Day 2013) and you can see our packing process in this video at the 3:09 mark.