Known as the "Pearl of the Indian Ocean" because of it's natural beauty, and because of it's friendly hosts, it is also referred to as the "Nation of Smiling People." Sri Lanka has much to offer with a diverse range of religions and languages and ethnicities.  The island is also a large importer of tea, cinnamon, coconuts, and rubber. If you could take a guess as to why the Organic Comfort Zone imports its latex from Sri Lanka it is because of the Sri Lankan rubber trees. From these trees a milk sap can be extracted in order to produce what is known as natural latex rubber.
Latex mattress' are some of the most comfortable in the world. A large sum of the best latex comes from the island of Sri Lanka. Much of the process of creating natural latex contributes greatly to the employment of many locals whose job it is to tap the latex trees for their sap. Sri Lanka has many tree farms where the rubber trees are grown, and in no way is the extraction process harmful for the tree! The production of a latex mattress is environmentally friendly in every way. Even if the day comes, many years down the line, that you must get rid of your latex mattress, there is no need to worry because the latex is biodegradable.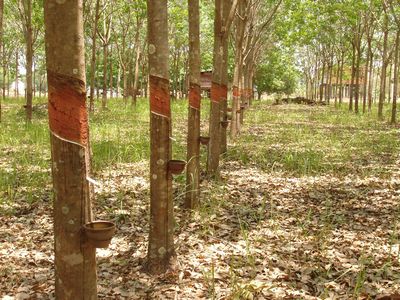 Also, while the latex components are produced in Sri Lanka, every one of CozyPure's products is created with the best of care in the USA. Everything from our Matelasse Organic Cotton blankets to our La'Noodle pillows and mattress toppers are manufactured in our very own warehouse, where we work hard to assure that our customers receive the best for their buck. Our products are comfortable and affordable, they will last a long time and will not wear and tear like the cheap products purchased from a discount department store, in which products are mostly outsourced to be made for a cent an hour.
Among other aspects of Sri Lanka, it is also one of the most beautiful islands in Asia, with an abundance of wildlife and wildflowers. Its natives are friendly and inclined toward sports and adventures including rafting and surfing. A beautiful thing about Sri Lanka is that, being a small country with a wide variety of religions, it has managed to remain peaceful throughout the years, celebrating and appreciating everyone's own beliefs and mythologies. There are many festivals to attend, including Easter celebrations and the Electric Peacock Festival, which is a relatively new music gala.