In the past 25 years CozyPure has accumulated customers from all over the country; Even before the internet, we were able to serve customers nationally through our catalog. Since purchasing a mattress is quite the investment, we have customers call our Norfolk, VA facility every day asking questions to help them finalize their purchasing decision. Some common questions include: the difference between our Organic Mattress and Natural Latex Mattress, how to determine the proper firmness, what materials are used in our all natural products and just general concerns you would expect from someone shopping for a new mattress.
I've also noticed that some consumers do a little more research than others and have very specific questions,like is our latex "dunlop" or "talalay." I knew the answer to be "dunlop" but I did not know the difference between the two and decided to do some research. Here is what I found:
Natural latex starts out the same; Rubber milk is harvested from the rubber tree. You can read more about how CozyPure's latex is harvested in our blog post, "Organic Comfort Made Fresh Daily with Farm Fresh ingredients."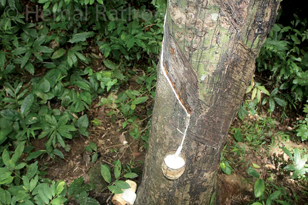 After the rubber milk is harvested the way it is made into durable and all-natural latex varies; It will either be the "dunlop" process or the "talalay" method. Dunlop latex is mixed with a gelling agent while still in its liquid form and then put in molds and introduced to heat through a vulcanization oven. This vulcanization process is what turns the rubber milk into a durable foam rubber. It is then washed out to remove any naturally occurring impurities and then dried. A fairly simple process, which makes Dunlop latex more affordable and more eco-friendly. The Talalay process is more complicated. It requires the latex to be placed in a mold and then introduced to a vacuum for expansion, then frozen. The gelling occurs when carbon dioxide gas is forced through the mold. After the vacuum, freezing and gelling, it is then vulcanized. In addition to being a more expensive and less environmentally responsible process, it is not available in as many sizes and a naturally occurring topper is not made in the process as in the Dunlop process.
When discussing with Cheryl Hahn, the owner of CozyPure, about why CozyPure uses Dunlop latex in the crafting of our CozyPure organic mattresses, she refers to the Dunlop process as "tried and true." "What I particularly like about our Dunlop latex rubber is that we deal direct with the grower. The latex is processed on site at the plantation. We never have to wonder what it went through before getting to us." Hahn sums up her preference by saying, "It is grown there, harvested there, processed there and shipped directly to us."

It may have been believed at one time that Talalay latex provided a softer alternative to the original Dunlop latex, however through constant improvements the Dunlop process has become more sophisticated. Through density variations and sculpting, Dunlop latex can acheive any desired softness while maintaining the firmness that makes it sought after. CozyPure's mattresses are available in varying configurations to accommodate the various softness needs of individuals. If you are a discerning customer that wants to know how your latex is processed, now you know!